Alan David Reeves is a British film score composer, synthesist, and legendary Hammond B3 virtuoso. In the course of his career he has received 35 international awards, including a Gold Album.
He became known for his work with the bands The Showtimers and Clinic as well as for the music for the films Bethune, To Walk with Lions, The Call of the Wild, Ocean Oasis and Kill Bill Vol. 2.
He has played or recorded with/for among others, The Rolling Stones, Jimi Hendrix, Chuck Berry, David Bowie, The Beatles, Lionel Richie and David Gilmore.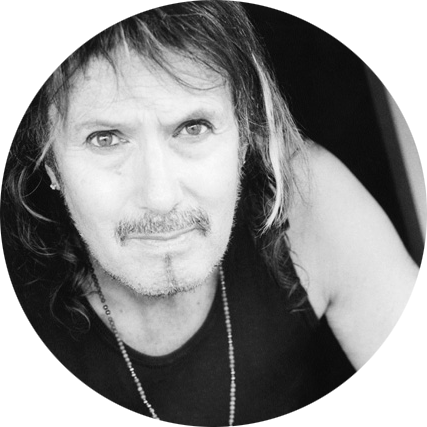 KILL BILL VOL.2, directed by Quentin Tarantino, won a Gold Album for record sales
TO WALK WITH LIONS, starring Richard Harris, Ian Bannen. Canadian Academy Award Nomination for Best Music
BETHUNE THE MAKING OF A HERO, The Chinese, Canadian, French Epic starring Donald Sutherland and Helen Mirren. 
OCEAN OASIS IMAX, the most successful IMAX film in history won six festivals for best film and best music, it is still running since 19 years at The San Diego Natural History Museum
YOUNG IVANHOE starring Stacy Keach, Margot Kidder, Nick Mancuso
RAINBOW starring Bob Hoskins and Dan Ackroyd the worlds 1st entirely digital film
A YOUNG CONNECTICUT YANKEE IN KING ARTHUR'S COURT starring Michael York, Theresa Russell, Nick Mancuso
OWD BOB starring James Cromwell, Colm Meaney
FOR HIRE starring Rob Lowe, Joe Mantegna
NATURAL ENEMY starring Donald Sutherland, Leslie Ann Warren, Tia Carrera
THE CALL OF THE WILD starring Rutgur Hauer
A REEF REBORN IMAX HD 3D by Soames Summerhays 2016
NICO THE UNICORN starring Anne Archer
HEMOGLOBIN starring Rutgur Hauer
OUT OF CONTROL starring Tom Conti, Sean Young
TWISTS OF TERROR starring Nick Mancuso
TURTLE REEF directed by Soames Summerhays
THE ROAD TO SALINA with Rita Hayworth
PARLEZ MOI D'AMOUR directed by Michel Drach
CORAL BLEACHING directed by Soames Summerhays
LAISSE ALLER C'EST UNE VALSE  starring Jean Yanne Mireille Darc
LES COUPLES DU BOIS DE BOULOGNE directed by Christian Gion
FISH SPAWNING AGGREGATIONS by Soames Summerhays
LE DESIR directed by Jean Francois Davy
PROSTITUTION full length documentary 90 minutes
L'ETANG LONG short film directed by Michel Seydoux
LES CONS CA OSE TOUT short tv film by Georges Lautner
DIM DAM DOM

short tv film by Pierre Vassilu

PATCHWORK

short cartoon by Manuel Otero

LES JEUNES LOUPS

directed by Marcel Carne, I performed the main title track with my band from Liverpool, The Krew
I worked with STANLEY KUBRICK'S team who built all the sets for "A SPACE ODYSSEY 2001" for Milena Canonero
JUST SAY NO TO DRUGS with Brook Shields, NANCY REAGANS anti-drug campaign for THE WHITE HOUSE, donation of original music
FEED THE HUNGRY of New York City, donation of original music
GOLD ALBUM for record sales for KILL BILL VOL.2
GRAND PRIX "LINO VENTURA" at the festival international of action and adventure in France for BETHUNE
6 FESTIVALS AWARDS for Best Music with OCEAN OASIS
GOLD PLAQUE AWARD at the CHICAGO INTERNATIONAL FILM  FESTIVAL
THE  DON BELDING AWARD, Los Angeles I won 1st, 2nd, 3rd & 4th prize for SHAKEYS PIZZA
THE INTERNATIONNAL BROADCASTING AWARD  at the Hollywood Radio & Television Society
BEST ADVERTISING MUSIC OF THE YEAR & BEST ENGINEERING for film CINZANO BIANCO at the Festival Del Film Pubblicitario Italiano in Milano, Italy
GOLD LION for LEVIS at the International Advertising Festival in Cannes, France
2  CLIO AWARDS in New York, for LEVIS, etc…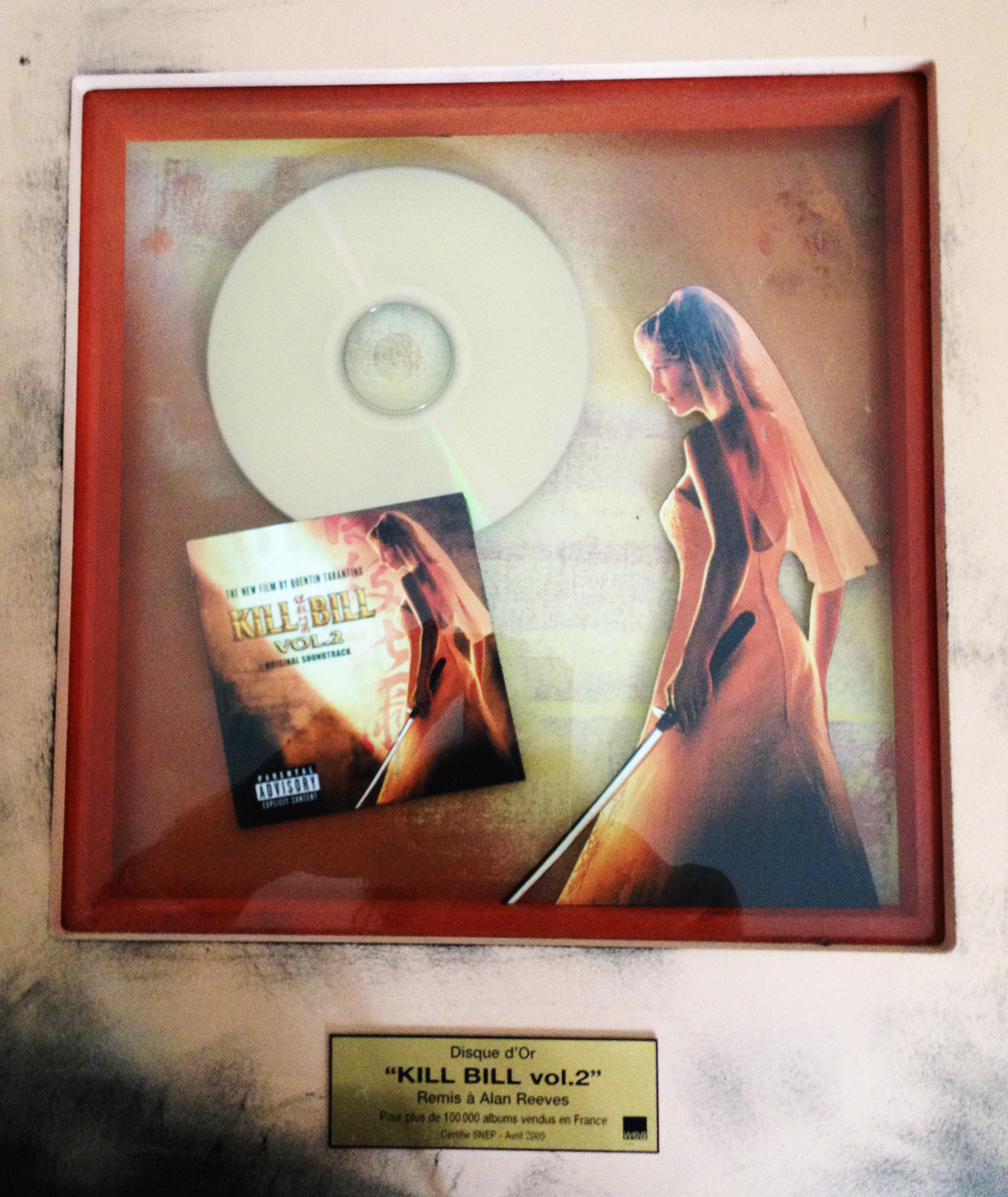 HEWLETT PACKARD – BRITISH AIRWAYS – MTV – GILLETTE – L'OREAL – DE BEERS – SHAKEYS PIZZA – BANK OF AMERICA – SBB – CHRYSLER – FORD – FIAT – HONDA
Plus 350 other TV Commercials
AGENCIES : LEO BURNETT (Chicago) – J.WALTER THOMPSON – OGILIVY AND MATHER – PUBLICIS – YOUNG & RUBICAM (Los Angeles) – BBDO – MC CANN – TBWA – HAVAS
John Alcott won the Oscar for best cinemaphotography in Stanley Kubrick's film Barry Lyndon.
Jordan Cronenweth, ASC's photography for Blade Runner
Won the Oscar for best cinemaphotography.
Freddie Francis won two Oscar's for best cinemaphotography.
ORCHESTRAS THAT I HAVE RECORDED WITH
Alan Reeves Film score music has been performed by:
The Munich Symphony Orchestra – The Prague Philharmonic Orchestra – The London Symphony Orchestra – The Paris Opera Orchestra
MUSICIANS I PLAYED OR RECORDED for or WITH
 THE ROLLING STONES  – THE BEATLES – THE ANIMALS  – THE WHO  – JIMI HENDRIX  –  DAVID BOWIE – ROD STEWART  –  THE SMALL FACES  – LIONEL RITCHIE – CHAKA KAHN  – DAVID GILMORE  – ERIC CLAPTON  –  SLY STONE – RITA COOLIDGE  – OTIS REDDING  –  SONNY BOY WILLIAMSON – LE CIRQUE DU SOLEIL  –  CHUCK BERRY  – STEVE WINWOOD – PERCY SLEDGE – GENE VINCENT  – MURRAY HEAD  –  LEE DORSEY – AL STEWART  – FONTELLA BASS  – MUNGO GERRY – NIGEL OLSSON – PRINCE  – JACK BRUCE  –  GINGER BAKER  –  WILSON PICKETT – YES  – LONG JOHN BALDRY  –  THE TOWER OF POWER – BRIAN AUGER – BILLY ECKSTINE – EVE BRENNER
Performed with CHUCK BERRY playing piano to a crowd of 500,000
THE GRANDS BALLETS OF TAHITI, produced for their album, singing my songs in Tahitian, in Papeete
Performed at THE FESTIVAL OF SAN REMO
FORMED AND PLAYED WITH THE FOLLOWING BANDS
THE SHOWTIMERS – Famous Pop group
SHORTY AND THEM – Famous Blues group
THE WRANGLERS with DAVID BOWIE
THE KREW absolute killer blues, soul, rhythm and blues group with DAVID GILMOUR
CLINIC

1st trio, played with

VANGELIS

(he loved my playing)

CLINIC 2nd famous trio, we played in Paris then spent 1 year in Japan 

and 6 months in Italy

CLINIC

reformed made an album and toured all over France.

THE ROCK 'n' ROLL LOLLYPOPS

great R&R band, double album

THE ALAN REEVES BLUES MACHINE

formed and toured with 2008-2012

THE NIGHTIMERS

my great 12 piece L.A. band.

TALJA

killer all star L.A. band with Ainesley Dunbar, Tim Bogert, 

Lawrence Juber, John Phillips and Alan Reeves

BLOW

great blues and soul band. Playing THE CENTRAL in L.A

ALAN REEVES AND MICHAEL REESE, recorded 4 albums : Recovery, Between Two Worlds, In The Moment, Reunion
Rainbow - The Colors of Life (The Munich Symphony Orchestra)

Alan Reeves

2:37

Bethune - Arrival in China (Synths)

Alan Reeves

1:47

Rainbow - Race to Rainbow (Synths/The Munich Symphony Orchestra)

Alan Reeves

2:13

Bethune - Battle 2 (Synths)

Alan Reeves

1:46

Ocean Oasis - Whales/Dolphins (Synths/The Prague Philharmonic Orchestra)

Alan Reeves

2:20

A Reef Reborn - The End of a Love Affair - (Synths)

Alan Reeves

2:20

To Walk With Lions - Opening Titles (The Prague Philharmonic Orchestra)

Alan Reeves

1:47

Salina Blues

Alan Reeves L.A. Dream Band with Ray Foster

10:04

Ocean Oasis - Manta Ray (The Prague Philharmonic Orchestra)

Alan Reeves

3:29

To Walk with Lions - George Dying (The Prague Philharmonic Orchestra)

Alan Reeves

4:31

To Walk with Lions - Tony Leaving (The Prague Philharmonic Orchestra)

Alan Reeves

0:55

Rainbow - End Titles (The Munich Symphony Orchestra)

Alan Reeves

2:21
Edited by AUTHORHOUSE, United States (2014)
Alan's autobiography.
The wild life and times of a South East London musician in London, Paris, Tokyo and Los Angeles!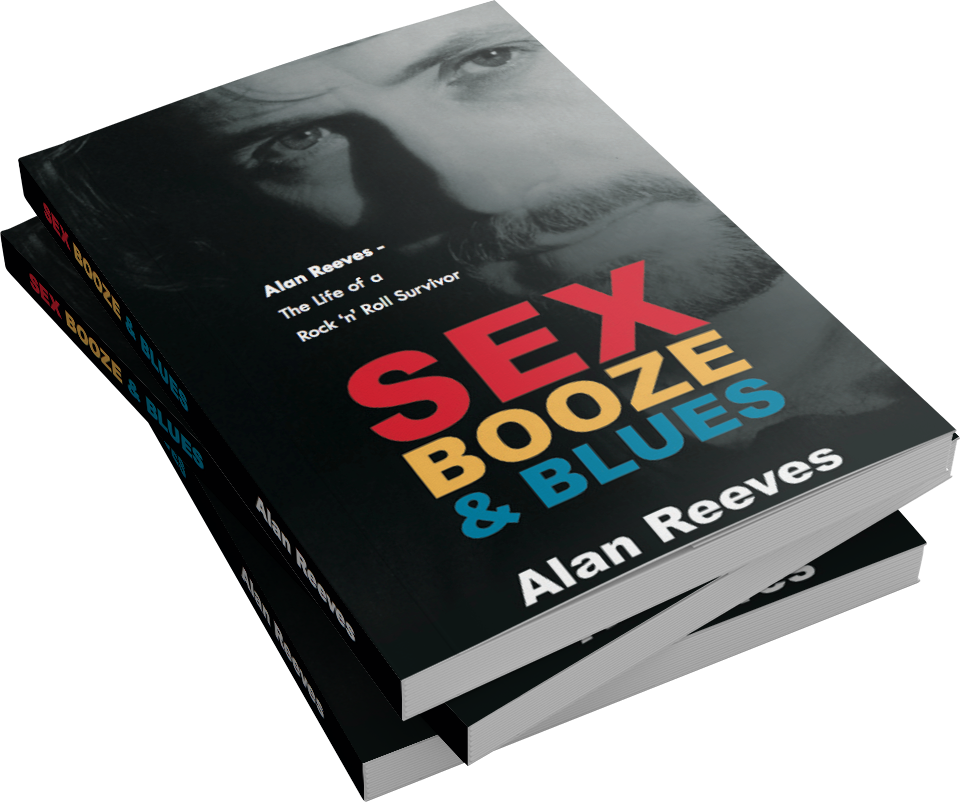 "Alan is amazing artist, incredible talented musician and great personality. He can compose all kind of music styles: blues, rock, pop, new age and even house music. Great vocalist and amazing keyboard player. He is working with famous musicians, composers, also he is working with world known directors and producers (movie soundtracks). Big thumbs up Alan!"
A REEF REBORN – IMAX HD 3D – 2016
"When I need to have music that reflects the emotional moment of the film I'm producing I can turn with confidence to Alan Reeves.
Alan has the unerring ability and the creativity to compose music that will transform an extraordinary story into a masterpiece.
In my view he is the very best of a small cadre of composers who can paint glorious pictures with music and pluck the emotional moment from the air to deliver it – with deadly accuracy – directly to the heart."
"One of the finest film composers in the world"
"Alan tell me, how did you learn to play like that"
"Happy New Year!  I trust all is well with you and your son. 
I have to tell you something funny – the other day as I was working while listening to my iPod I heard a familiar beautiful refrain – one that made me stop what I was doing and pay attention.  Who on earth could be the composer?… I started my course of elimination… could it be Mozart? – but it wasn't any of the multitudes of pieces I know… Beethoven? Brahms? Berlioz? It was a peculiarly beautiful piece full of wonder and longing… and then I remembered – it was a Reeves… one of your pieces from Walking with Lions, or some such.  What a talent!
 Best wishes,
 Soames"
OCEAN OASIS – IMAX 3D – 2000
"Alan Reeves tells me that the visuals of Ocean Oasis inspired him. But it was the other way around. I searched globally for more than a year to find the right composer for the film.
Alan Reeves score is for me, one of the most satisfying achievements of Ocean Oasis. His music magically reflects the dramatically different moods of the film and does what is so difficult to do, inspire the soul."
OCEAN OASIS – IMAX 3D – 2000
"Alan Reeves' score for Ocean Oasis is beautifully evocative. It captures the essences of a stunning environment, the stark surrroundings of the Baja pininsula and the spirit of its Mexican caretakers"
"I love who you are and how you are still so "on fire" to do gut wrenching, butt kickin' music! You are a rarity these days!"
A REEF REBORN – IMAX HD 3D – 2016
"The incomparable Alan Reeves has done it again! There is magic in his music
That consistently compliments the emotional moments of our film. A Reef Reborn 3D – an inspirational story that brings to life the triumph and bravery of a small community, along with their irrepressible spirit in Baja California, Mexico. Scoring a film is a special kind of craft that demands multiple skill sets found in a concert hall filled with virtuosos: composers, arrangers, performers and recording engineers. Alan Reeves is a one of a kind composer !!!"
"You probably know me, respected hit recorder of loads of '60's' and '70's' songs in the UK, USA, Australia, Italy, Germany, France, in fact, the World, with my band 'The Bachelors', with gold million sellers. We outsold 'The Beatles' in 1964 and 1965.
Alan Reeves was nominated last year for his film score "To Walk With Lions" at the Canadian Academy Awards and won several awards for "OCEAN OASIS" the most successful IMAX film score.
Now you won't know that Alan Reeves was, and is, the greatest HAMMOND B3 organ player in the world… The best I have ever seen…"
"No one plays HAMMOND B3 quite like Alan Reeves."
"This man can really play, he's one of the finest in the world"